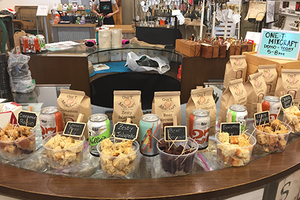 CL Family Spotlight: One T Mixcraft
He's figured out the perfect way to have beer for breakfast, lunch, dinner, and dessert! Meet Mat Vross, the artisan behind One T Mixcraft, craft beer bread mixes.


Magic happens during nap time . . .
"I started One T Mixcraft in early 2016 after a friend saw my pantry filled with zip-top bags of pre-portioned beer bread mixes. I was making beer bread a few times a week for my family. To save time, I measured out all of the ingredients ahead of time so that when we decided we wanted bread with dinner, all I had to do was add a beer to the mix and pop it in the oven. My friend asked if he could take one of the mixes home to make himself. He told me the bread was so easy to make and so good, that I should consider selling the mixes. In the summer of 2015, I had left my job as a food microbiologist to take on the responsibilities of a stay-at-home dad to our newborn son. So when my friend suggested I sell the bread mixes, I was excited to use nap time to research, plan, and eventually start a business."


For beer lovers everywhere . . .
"It's my goal to give my customers a way to further enjoy craft beer. I love trying different styles of beer and I thought it would be interesting to make beer bread that would emphasize the unique traits of different beers. My original idea was to have just one beer bread mix flavor, Classic, that would pair with any beer, and that my customers would use their favorite craft beer to make a unique loaf of bread. My wife had the great idea to make several flavors of beer bread mixes that would perfectly pair with a particular style of beer, but would also be great with whichever beer is in the fridge. I often get asked if the type of beer makes a difference in the flavor of the finished bread, and I always reply that, yes, it absolutely does, but if you like the taste of the beer, you will like the taste of the bread."


"I try to think up new flavors of mixes that will pair well with seasonal beers or with notable beer styles. For example, the pumpkin spice flavor is popular in the fall and pumpkin beers are available in the fall, so I made a pumpkin pie spice bread mix that pairs beautifully with pumpkin beers. A mix will usually go through several variations before I settle on one that I like. I make up test loaves for my family and friends to try. I will even take samples to retailers who carry my mixes to get their opinions. Once the recipe is just right, I start making mixes!"

Breakfast is the best . . .
"My favorite product is--definitely the Everything Bagel bread. It has all of the flavor of an Everything Bagel without the jaw workout of eating an actual bagel. It's so versatile, too. My favorite is to cover it with cream cheese and smoked salmon for breakfast."


Free time consists of . . .
"Trying new beers and playing games with friends."


Celebrate Local makes the difference . . .
"Since I started working with CL, my business has absolutely grown. It really is a great business incubator and it gives me a great place to test new ideas and to interact with other small business owners. The CL team is amazing at coming up with new ideas for products, marketing, or packaging, and at helping troubleshoot problems. I am very glad I joined the CL family!"


Find all delicious flavors in-store and online 
here.
---