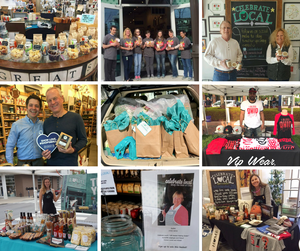 2017 in Review
    When we look back at the 365 days that made up 2017--we're amazed by the many memories! The artisans, farmers, artists, crafters--the 300+ Ohio small businesses that make up the Celebrate Local family, make each year better than the last. The new team members we've gained this year, and the countless community members who have visited one of our retail locations (Easton & Liberty Center) have truly helped us grow in so many ways. 
We are so grateful to be a part of the Columbus and West Chester (Cincinnati) communities! We love getting to see all the new faces and hear all the stories about what brings everyone through our doors.
Some of our favorite moments include:
Liberty Center
We celebrated our 2nd Anniversary with a week full of demos, tastings, and giveaways!
We loved participating in the Liberty Center farmer's market this past summer! We even got to feature a different CL family member every week.
Elida Candle Company created an exclusive Celebrate Local scent that mimics the smell of our stores!
We created Small Business Saturday partnerships with some of our neighbors to promote shopping small & local at Liberty Center.
Some of our CL family members now have exclusive products created for & sold only in our stores/online marketplace. 
We partnered with Mason High School, and had the pleasure of having one of their Work Study students join us once a week for the first couple months of 2017 to experience a real work environment. She helped us count inventory, fold t-shirts, and greet customers. We are having a new student join us in January too!
Our most sold items this year were the delicious Burst cookies from Firecracker Bakery (1,222 bags!) and beautiful coasters from Cityscape Tiles (830 items!).


Easton
We celebrated our 6th Anniversary with a week full of demos, tastings, and giveaways!
Our Ohio-made gift baskets/bags program really kicked off in 2017! We loved creating baskets filled with Ohio goodies for local organizations like Nationwide Children's, Morgan Stanley, Hilton Hotel, Oral Implants & Reconstructive Dentistry, Alliance Data, Ohio Dept. of Youth Services, Floral Garden Flowers, Leading Technologies, and the St. Petersburg Chamber of Commerce (Florida)!
Easton Town Center partners with Cristo Rey High School, and Celebrate Local had the opportunity to have a couple of the students work with us for a small period of time last spring. They got to experience what it's like to work retail, from stocking the store, to greeting customers, and doing inventory, etc.
We loved being a part of the Easton farmer's market and can't wait for the 2018 season!
Celebrate Local is also on the Made in CBUS trail from Experience Columbus!
We hosted Locally Crafted during Columbus Beer Week to feature many of the Ohio craft beer varieties we offer!
We partnered with Novembeard this year to raise money for Nationwide Children's Hospital. Celebrate Local Easton (and online marketplace) were the only retail locations to feature the Novembeard t-shirt. 
Online
Our website and e-commerce platform got quite the facelift this year! The new design showcases our growth.
We had our first-ever orders all the way from Alaska and Hawaii!
E-commerce took off in 2017. 500% increase over 2016!
We started publishing Ohio-made gift guides this fall to help with holiday shopping ideas!
Miscellaneous
We added 250 new Ohio-made products and 40 new vendors to our lineup in 2017!
There were 474 NEW product lines added in 2017.
We started offering plastic gift cards to both of our retail locations this year.
We had 183 chances for the community to meet the makers and demo/sample their delicious products at both our stores during the weekends. Check out our upcoming events here!
Will you celebrate LOCAL with us in 2018?
---