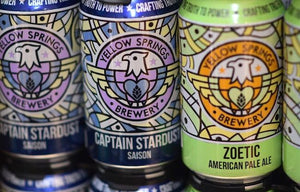 CL Family Spotlight: Yellow Springs Brewery
This week we're shining the spotlight on Celebrate Local family member Yellow Springs Brewery, opened by husband and wife team  Nate Cornett and Lisa Wolters in April of 2013. We chatted with Lisa for more background on the brewery!
What's the story behind your brewery, and how did you get started?
Yellow Springs Brewery is small, community-minded production brewery and taproom in the quaint village of Yellow Springs, OH. It was our dream to add to the fabric of our small town by opening a space that allows for visitors to meet and talk with locals. We encourage conversation and discussions by providing a location that does not have televisions but does have board games and cards. We have a continuous flow of local art on our walls with exhibits that change every four weeks. We brew many different styles of beer and have 12 taps flowing in our space located along the Little Miami Bike Path. Early in our planning process, we teamed up with Jeffrey McElfresh, our brewmaster, who keeps a steady flow of core beers, along with some interesting weekly twists, as well as some unique one-offs. We've been able to put two of our most popular brands, Captain Stardust Saison and Zoetic American Pale Ale, into cans this year with plans for four more brands to follow in 2017. Our most recent cans focus on celebrated local artist, Don Pendleton's work, in our new logo and label art.
What makes your beers unique?
The Yellow Springs Brewery team shares a love of really good beer. Beer that's distinct. Beer that's thought through, all the way from brewing to canning. Beer that's carefully crafted and consistent from batch to batch. We believe that the beer quality comes first and the marketing follows.
What do you like about being part of the Celebrate Local family?
Yellow Springs Brewery has embraced the local movement from our beginnings and we love being involved with a business that is like-minded. We appreciate the clever, creative work at Celebrate Local and are proud to be on their shelf along side our fellow Ohio breweries.
---