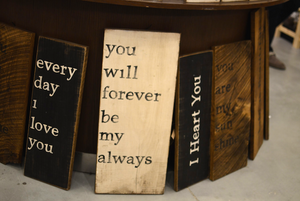 CL Family Spotlight: Weston & Co
This week we're shining the spotlight on Celebrate Local family member Brooke Yingst of Weston & Co Home Decor!


What's the story behind your business, and how did you get started?
Our company started  a little over three years ago after our son, Weston, was born.  My family has a reclaimed furniture business who at the time was a vendor of Celebrate Local.  He had asked me to create picture frames and wall signs.  In our garage I started this little venture as a stay at home mom while my husband worked outside of our home with a local company. While Weston would nap I would assemble frames and hand paint wall decor.  We have since expanded to 5 stores in this great state of Ohio.  This past year our business really started to grow and now my husband, David, is able to work from home with me creating furniture.  
What makes your products unique?
All of our decor is crafted from solid hardwood - poplar, pine, reclaimed oak and reclaimed chestnut.  Along with our family, we purchase most of our wood locally.  We create each piece as it's own by hand painting, distressing and staining to give them a unique, individual look.  Each piece is really never the same.  They are finished by branding our logo on the back!  As Weston always asks "Mommy, are you putting my name on there?"  
What do you like about being part of the Celebrate Local family?
To be a part of such a unique, hard driven team at Celebrate Local is a huge blessing for our family.  We are able to be at home with Weston watching him grow and teaching him the importance or work and family.  Each member of Celebrate Local is so important and are always there to make not only our product shine but to also create an experience where clients return for that next perfect gift.  


Weston & Co decor is available at both Celebrate Local stores and on our website! 
---