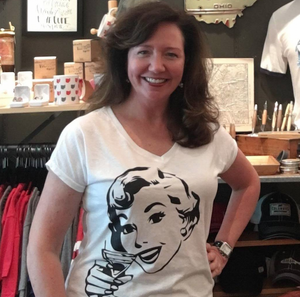 CL Family Spotlight: Sugar Pie Tees
This week we're shining the spotlight on Celebrate Local family members Kelly and Jason Blanton, owners of Sugar Pie Tees.
What's the story behind your business, and how did you get started?
Are you familiar with the phrase: "If you can't find something you want, create it yourself."? Well... we did just that! We're basically two crazy, obsessed longtime tee-lovers who got tired of seeing and buying boring, so-so tees...so we decided take the leap and start designing our own. Honestly, we make what WE want to wear! When we created Sugar Pie Tees in 2012, we set out to create fun, unique designs on the highest quality t-shirts and apparel ~ and we wanted to have fun doing it! Most of our tees are a unisex fashion fit that look great on both men AND women. We also design ladies fashion tops, fleece and infant and kids gear. We want to provide fun tees and tops for your whole family! Tees that make people say: "I love your tee, where did you get that?"


What makes your products unique?
First and foremost, the tee has to be awesome! Not just the design or the kitschy phrase on the tee (although those are very important aspects) ~ the feel and quality of the material, the fit, the ink used in printing and everything else that makes a tee fabulous is SO important to us. There are plenty of tees out there of poor quality and ZERO aesthetic value. Those are NOT the tees we set out to create. We design a lot of Ohio-themed tees (our Made In Ohio design is our best-seller), but we also have a lot of fun other designs (wine, cupcakes and bacon themes are very popular as well). Some of our designs are oversized, cool graphics...some are smaller. It really depends on the look we're after and we mock them up all sorts of ways to see what makes us go, "Whoa....that's it, that's the tee I want to wear!" Likewise, the typography we use has to tickle us and perfectly fit the phrase. Bottom line: we both love tees....we love designing tees....and we really LOVE to see people wearing our tees!


What do you like about being part of the Celebrate Local family?

We truly love being part of the Celebrate Local family! It is such a supportive and fun community and it gives us a great opportunity to learn about growing a successful small business alongside so many other great local companies. We also recognize that Celebrate Local IS so special because of the support and true 'local love' from the awesome Celebrate Local founders and the great team that they have created. Celebrate Local was a true pioneer of the Shop Local movement in Ohio and we always feel honored and excited to tell people that our tees are sold at Celebrate Local!
Look for Sugar Pie Tees on our website and at our Easton and Liberty Center stores! 
---