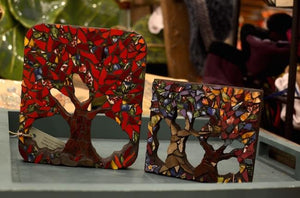 CL Family Spotlight: Spring Grove Mosaics
This week we're shining the spotlight on Celebrate Local family member Terrie Eilermann, owner of Spring Grove Mosaics!
What's the story behind your business, and how did you get started?
I've produced art in one form or another all my life, most recently stained glass, until I tried mosaic. I loved the way it was more creative than glass, less structured, no patterns to follow. My daughter Shawn, who is an art teacher in her day job, collaborates with me in producing various types of pieces. We began exhibiting in local art shows, and now offer our mosaics at Celebrate Local Ohio!

What makes your products unique?
I believe that our mosaics are different beginning from the design - the base is wood, and cutting each by hand allows for freedom in design. Sometimes I don't follow the intended pattern at all, but let the saw take a different path. There is no right or wrong way to mosaic - however it ends up is exactly the way it was supposed to be. Using pieces of dishes gives them unusual shades, patterns and textures that are not readily available in tiles. Because of this, no two trees are exactly alike.

What do you like about being part of the Celebrate Local family?
All of the products at Celebrate Local Ohio are so creative and fun - its great to have our artwork displayed alongside all these other unique items in such a beautiful shop!
Look for Spring Grove Mosaics at our Liberty Center and Easton Town Center stores!
---