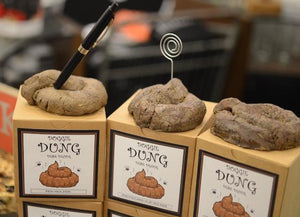 CL Family Spotlight: Doggie Dung Desk Decor
This week we're shining the spotlight on Celebrate Local family member Tom Wierman, creator of Doggie Dung Desk Decor. A great white elephant or gag gift!
What's the story behind your business, and how did you get started?
Just one of those "Why not... What have we got to lose?" ideas. 
A few years back, I found myself playing with some left over grout, from a tile project I'd just completed (yes, I get easily distracted). I started molding it into little piles of dog poop. No idea why? I figured, I'd let it dry, give it to the boys and win some "cool dad" brownie points. They found it gross and awesome. Mission accomplished. End of story.
Fast forward a couple of years...And I, somehow, found myself doing it again. Better quality, high end crap with round 2. This time my oldest replies: Dad, you should make a bunch of these and sell them on-line or something. What a wonderfully strange idea!.. I spent the next month tweaking the formula and giving it my artsy fartsy spin. Several week later, We had a name and Doggie Dung Desk Decor became market ready.
What makes your products unique?
We're not your average lump of fake dog poop, made from rubber, squirted into molds a thousand at a time, in some far away factory. Nope. Our crap is first rate. Handcrafted in our Dung Design studio, right here in NW Ohio. Doggie Dung is shaped one at a time by one of our fine artisans..(For now, that would be me) Each pile is unique..like snow flakes...only brown.
What do you like about being part of the Celebrate Local Family?
I love the fact that we're all, more or less, small time entrepreneurs, bonding together in one place. Most of us hoping to get enough recognition and traction to move up to the next level.
Pick 'em up at both CL stores or 
online
! 
---