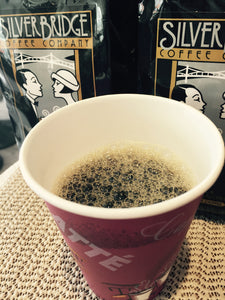 CL Family Spotlights: Silver Bridge Coffee Company
Happy Friday! Today we shine a light on Gallipolis' own Silver Bridge Coffee Company!
What is the story of Silver Bridge Coffee?
As a hobby, Lorraine and Phil Walker used to roast coffee in a popcorn popper in their kitchen. They shared samples with friends and family near their home in Gallipolis, Ohio. Everyone raved about their "special brew" and many encouraged them to start roasting and selling to the public. In 2008, Silver Bridge Coffee was born and remains a proud Ohio woman-owned and family supported business.
2. What is your favorite product and why?
Ethiopian Yirgacheffe is my favorite as my first cup of the day. In the afternoon I reach for my favorite flavored coffee which is Sticky Bun. It tastes like dessert in a cup without the calories, sugar or carbs!
3. How has being a part of our Celebrate Local family helped your business grow?
We've had a wonderful partnership with Celebrate Local! Being in the store enhances our visibility and complements our exposure at the New Albany Farmers Markets. We do not have a brick and mortar coffee shop so Celebrate Local is a great venue for the central Ohio community and visitors at Easton to be able to purchase our locally roasted coffee.
---