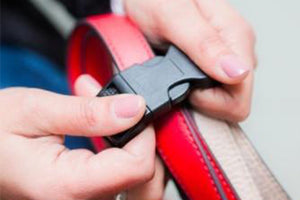 CL Family Spotlight: Strap Grip
Ever get frustrated carrying multiple bags--they're falling off your shoulder and you don't have any free hands to unlock the car? Well, meet the makers behind Strap Grip, the perfect solution to one of life's most annoying issues.
Not only is Strap Grip functional, it gives back to charity. . .
"We are Dalia Kalgreen (President/CEO) and Megan Hyde (Marketing Director) for Strap Grip. The idea of Strap Grip dawned on me (Dalia) while toting my two small kids, three soccer chairs, a cooler, and a purse across a soccer field, all while trying to keep it together. Everything kept falling off and made this seemingly easy task very frustrating and difficult for myself and my kids. I went home and researched products to try to find something that would help and I couldn't find anything. So I invented one. I wanted it to be adjustable, reusable, recyclable, durable, and simple. After having several prototypes made, I finally landed on the one you see today which encompasses all the aspects I found important. This process began in 2013 and had to be put on hold until 2017 due to personal reasons."

"In 2015, I met Megan while working at a previous company. Every now and then I would mention that I had this idea and wanted to pursue it. In April of 2016, my mother lost her battle with breast cancer and it was at this moment that I felt compelled to make Strap Grip happen. From day one, we knew Strap Grip was an idea that could work and that we could work on it together."

"The pieces really fell together for Megan to join me when I decided to donate 10% of all proceeds to Breast Cancer Research, which is the reason Megan and her husband moved to Columbus from Atlanta, Georgia in the first place for him to get his PhD at Ohio State and complete a dissertation focused on Breast Cancer Research. The timing, her area of knowledge, and the common thread of Cancer Research being a cause near and dear to our hearts, made working together a no-brainer."
We're dedicated to helping you keep it together . . . 
"The company's mission is to make adulting easier when carrying your items around and giving back to the breast cancer community. Strap Grip really will help you keep it together with providing assistance for life's many different occasions."
It fits my style . . . 
"My favorite product is the black Strap Grip with black buckle. This was the original version and fits my style best." (Dalia)

"My personal favorite is the brown leather StrapGrip! It's classic, versatile, and perfect for my favorite purse and luggage because it blends in perfectly. I also love the the leather version of the product with my canvas tote bags because it looks like an accessory, but serves a legitimate purpose." (Megan)

Life really inspires us . . .
"The inspiration is simple, no matter where you have to go in your day-to-day, you have things you need to carry. We've just developed a tool that helps you take your things, especially multiple bags, more simply and enabling you to be hands free."

"Our creative process is A LOT of collaboration. Dalia is much more analytical while I'm more creative. Our ideas typically start as general conversations that we walk through and adjust until we have an idea that is both creative and practical." (Megan)


When we aren't helping people go hands-free, we are . . .
"My favorite thing to do is spend time with my kiddos. They are hilarious and really do say the most outlandish things. I also like to go out to eat. I LOVE the food options in Columbus and truly do enjoy the experience. (Dalia)
I love to craft. Handlettering, photography, wooden signs, digital prints, I really dabble in a few creative outlets." (Megan)


To us, Celebrate Local means . . .
"Celebrate Local has definitely helped my business grow. They provide tools to me, being a new entrepreneur, that I find to be helpful when deciding the next steps or direction. They helped build confidence in the brand as a store product and is one of the first stores to feature Strap Grip. They are really the beginning of this Journey to propel this company to greater heights and I will always be grateful for this opportunity to be a part of the Celebrate Local family." (Dalia)
"I love Celebrate Local, it's one of the first stores I noticed when I moved to Columbus and explored Easton. I was so surprised by the amount of pride and loyalty Ohioans have, and that's pretty special. It's also special to be able to take part in that loyalty by contributing something created locally." (Megan)
Find Strap Grip products at both our Easton and Liberty Center stores, and online here.
Watch their video here.

---