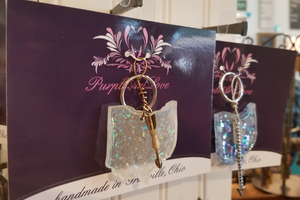 CL Family Spotlight: PurpleartLoVE
You've seen the beautiful, unique pieces of upcycled jewelry from PurpleartLoVE. Now, meet Melissa Winters: owner, mixed media artist and lover of repurposed, rusty goodness. 
It's part of who I am . . .
"I have been a lifelong maker of things. No day feels complete if I have not made something. The pieces I make come from my love of mixed media art. Many items found in my work are found items or "upcycled". I spent many an hour with my Depression Era Grandmother where repurposing was part of life. I still see this seep in to many of my projects. Right now I find myself drawn to Resin and all of the glass-like qualities it possesses. I love the idea of suspending thoughts and feelings inside the resin. Just like a time capsule." 
Each piece is full of passion . . .
"I graduated from Otterbein College with a Bachelor of Arts degree. Licking County has always been my home and probably always will be. I have been fortunate enough to have had works published in Belle Amoire Jewelry and Green Craft Magazine. It is my wish that you enjoy my jewelry pieces as much as I enjoyed crafting them."
Each piece is unique . . .
"It is hard to pick a favorite thing that is at Celebrate Local since many of my items are one-of-a-kind. I guess I would say the new tiny buckeyes encased in resin. Such a new way to honor Ohio."
When I'm not creating . . .
"I spend a lot of my free time making things and going with my son to archery events. I am also an animal lover so my King Charles Cavalier Spaniels and my sulcata tortoise get a ton of attention."
My experience as a family member . . .
"Celebrate Local has been a wonderful place to be associated with for many reasons. I think the biggest is that they are always reaching to improve the small businesses of Central Ohio. I have had friends say "Hey, I saw your stuff at Easton." I love that."
Find Melissa's jewelry in our Easton Town Center and Liberty Center stores.
---