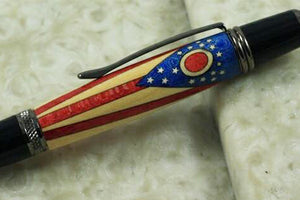 CL Family Spotlight: Ohio Penworks
This handcrafted piece of art is both functional and beautiful! The time, care, and creativity that goes into each pen is what Michael Broberg of Ohio Penworks is passionate about. Meet the maker behind these handmade writing utensils. 

The man behind the art . . .
"Originally from Colorado, but have lived in Central Ohio most of my life. Graduated from Northland High School in 1974. Obtained a BBA from the Mt. Vernon Nazarene University. I was a member of the Columbus Division of Police for 35 years and retired at the rank of lieutenant in 2012. My wife and I have been married 41 years. I have 3 children and 6 (soon to be 8) grandchildren."

A beloved hobby . . .
"Ohio Penworks is a one man operation. I work in a small space off of my garage and do some of the not so dusty/messy work in my basement. I still think of Ohio Penworks as more of a hobby than a business. I enjoy making things. My mission is simply to produce handmade products of high quality and make them available for a reasonable price. I'm not trying to make a living, I just want to support my hobby!"

It all started with a curiosity . . .
"Ohio Penworks was born as a business in 2009, although I actually began turning pens a year or so earlier."

"Why did I start turning pens? 3 reasons:
#1 Years ago my wife gave me a handmade pen as a gift. I really like the look and feel of it. I used it daily. One day, it was gone. I don't know if I lost it or if it was taken, I do know I was pretty upset that I didn't have it any more.
#2 Years later a co-worker of mine started turning pens as a hobby and brought some of them to work to show me. I purchased 2 from him and asked him how they were made. He explained the process to me. "I can do that" I thought to myself, so I went to Wood Werks Supply and purchased my first lathe, turning tools, some pen blanks and components, glue, sandpaper and all of the other small incidentals one needs to turn a pen. I always warn people who express interest in pen turning that their first one will cost them somewhere in the neighborhood of $800 - $1000!
#3 I was determined to produce flawless, high quality, visually appealing pens. It takes a lot of practice, which results in a lot of pens. My family can only use so many pens, and I can't afford to keep producing better and better pens and give them away. Ohio Penworks began as a hobby. I still consider it to be more of a hobby than a business. I sell my pens with the goal of making enough money to support, and grow, my hobby."
This one is my favorite . . .
"My personal favorite style pen I offer at Celebrate Local is the new "Scioto" ballpoint made with Buckeye Burl. The Scioto is a sleek, well balanced pen made with components of durable plating and solid mechanics. The majority of pens I offer at Celebrate Local are made with Buckeye Burl wood. The local connection to Ohio is obvious--but beyond that, I think Buckeye Burl is beautiful. No two Buckeye Burl pens will ever look the same!"

My inspiration comes from . . .
"There are many things that influence me.
Nature – The look and feel of wood, the colors, grains and flaws. It is often the flaws in the woods that make them so interesting.
I am inspired by the work of others.
I am inspired every time someone spends their hard earned cash to buy a pen that I made."
It's quite the process . . .
"It depends on the type of pen I am making. I look for highly figured pieces of wood and match them to components plated in complimentary colors. I like to segment different spaces of wood together, creating visually appealing patterns. I look for unique images which I cast in acrylic and turn into a pen. I recently acquired a scroll saw which I hope to use to create more intricate segmentations and patterns."
It's my passion . . .
"My business is my hobby. You will find me out in the workshop most days. I enjoy being around my Grand Kids also. They often join me at the lathe."
I chose Celebrate Local because . . .
"CL was recommended to me by an associate of Steiner and Associates. I've had my product in several other stores that were not as professionally run as CL. Celebrate Local has given me some exposure that I would not have otherwise had. I do sell pens via Etsy, and do pretty well at it; but some people understandably want to see, touch and hold a product before they purchase. When I receive an inquiry about where someone can go to actually see my pens it's nice to be able to direct them to CL. Over the years I have been associated with CL, I have picked up some helpful tips and ideas related to marketing, packaging, display, etc."
Find Ohio Penworks in-store (more varieties) or online here. 
---