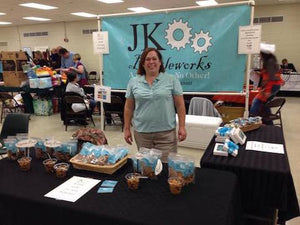 CL Family Spotlight: JK Brittleworks
We've got a sweet story for you today (it's just too hard to resist the pun). Jackie of JK Brittleworks took a little time out of their busy holiday season to tell us how she went from the best holiday gift giver around to a small business owner!
Q: What's the story behind your business, and how did you get started? A: I have made this brittle as Christmas gifts for family, friends, coworkers and business associates for over 20 years. Everyone always looks forward to their little package of brittle love the last few weeks of the year. My favorite thing is to hand someone a package as a gift and have them tell me that they're really not "into" brittle, but they thank me for my thoughtfulness - and the next time I see them they are falling all over themselves to thank me for the gift and exclaim they'd never had such a magical candy! One recipient described it as "little drops of pure sunshine," I love that! Enough people in the gourmet world insisted I needed to produce my brittle more than once a year and that they would buy it, so I decided to take the plunge and register the business. We named our company JK Brittleworks after myself and my husband, Jim.  Brittle is what we do best so we're sticking to making it the best on the planet.
Q: What makes your products unique?   A: We bill ourselves as making a "Brittle Like No Other!" because our brittle is like no other brittle on the market. The main ingredient in our brittle is the featured nut. Our brittle is more of a toffee that holds together the perfectly toasted nuts. Our dedication to quality shows through in every piece of brittle we make.  The pure notes of butter and toasty caramel that are released when you open a bag are pure heaven.
Q: What do you like about being part of the Celebrate Local family?  A: I love being part of the CL Family! They are so encouraging and really get to know me and my product. They take ownership in everything they carry. They know each maker personally and truly represent me the way I want to be represented in the marketplace.
Pick up some JK Brittleworks at our Celebrate Local Easton location!
---