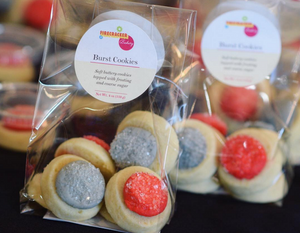 CL Family Spotlight: Firecracker Bakery
This week we're shining the Celebrate Local family spotlight on Lynn Loftus Wambaugh, owner of Firecracker Bakery, based in West Chester, Ohio!
What's the story behind your business, and how did you get started?
As the founder and owner of Firecracker Bakery, I am passionate about creating smiles and bringing joy and happiness through a simple sweet homemade treat. That's how it all got started 13 years ago. After retiring from my teaching job to stay at home with my first born I became very active in my community. I loved reaching out to other families and found myself joining groups like Moms Club, MOPS, and also became a neighborhood tutor. I enjoy getting involved with other people, building relationships and supporting community members. Through this, I found myself so touched by the hardships families experience that I started baking more and more as a way to show my care and concern for families in need. The more people I got to know, the more baking I was doing! Eventually, I was encouraged to turn my passion into something bigger! This is when Firecracker Bakery was born.
What makes your products unique?
My products are unique because they are handcrafted and made to order. The Firecracker Burst is a soft buttery cookie topped with frosting and coarse crystal sugar. Bite-sized and delicious, they're a Firecracker favorite and extremely popular for parties and gifts. Bursts are so fun and versatile they can accommodate any party theme! A chocolate chip cookie cake is a large 16" circle of goodness, each chip is hand placed to ensure even distribution so every bite is perfectly balanced with moist cookie dough and large Ghirardelli Chips. When a Firecracker customer chooses my bakery for special occasions and gifts, I am honored by their trust and belief in what Firecracker Bakery can bring to their important event.
Another unique feature of Firecracker is how I produce my product. I bake in a commercial kitchen called The Hatchery. The Hatchery is an incubator kitchen inside Saint Paul's Episcopal Chuch in Newport, Kentucky that hosts start-up food companies. I then distribute my product to different stores and coffee shops around the Greater Cincinnati Area. One of my most favorite shops is Celebrate Local.
What do you like about being part of the Celebrate Local family?
This is an easy question to answer. The people. I am a people person and everyone I have met at Celebrate Local from the vendors to the employees are so personable and incredible to learn about. My first impression I had with Celebrate Local was meeting Pegge Bellamy. She is one of the most inspirational and positive women I have ever met. Although I enjoy all the people I have met at Celebrate Local, Pegge is definitely perfect for this job. Her passion to help local vendors in admirable and her beautiful smile and positive attitude is infectious. Delivering cookies to such great people makes my job all the better!
You can find these delicious burst cookies at both Celebrate Local locations! 
---