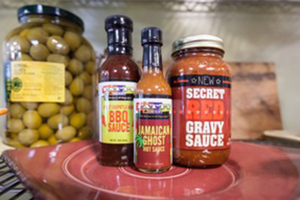 CL Family Spotlight: Fatty & Skinny Brand
For the love of all things spicy! Natural ingredients and chef-inspired flavors are the backbone of Fatty & Skinny Brand hot sauces and salsa. Meet the makers behind this local (Cincinnati) brand!


"Chef David Cook and his wife, Liz Cook, are the proprietors of Daveed's Catering and Culinary Kitchen in Madeira, Ohio. Chef David and his life-long friend, Jeff Burlson, created Fatty & Skinny Brand hot sauces and salsa 8 years ago. Jeff is tall and slim, Chef David is short and stocky, hence the name Fatty & Skinny."
"Since that time, Chef David created Secret Red Gravy: a hearty marinara sauce loaded with fresh, local veggies, good red wine, and lots of parmigiano reggiano cheese."

"Fatty & Skinny Brand Sauces offer consumers a unique and inspired blend of locally grown, all-natural ingredients; including peppers, fruits and fruit juices, vegetables, herbs and spices. Many of the peppers are grown in Chef David's own back yard!"
"Our hot sauce varieties and salsa bring stimulating new flavors to burgers, fish and chicken dishes, tortilla chips, buffalo wings and more. They spice up any recipe or snack with complex pepper flavors that enhance your culinary creations and never overpower them. Satisfy the growing demand for hot, spicy and exotic flavors with these gourmet (no preservatives) additions!"

"We love being part of the Celebrate Local family and sharing our locally inspired hot sauces, salsa, wing sauce, and Secret Red Gravy (marinara sauce) with the local community."
"It's important to educate people that supporting the local economy is a win-win for everyone."
Find the Fatty & Skinny Brand products in both our Liberty Center & Easton retail stores and online here.
---