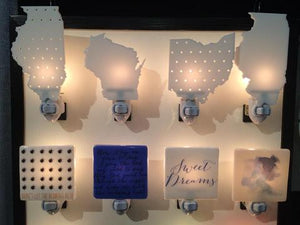 CL Family Spotlight: Dulcet Design
All it takes is a dream -- and a laser cutter. Dulcet Design began as a distraction for Alicia. It gave her an outlet when she found herself in a creatively unfulfilling job after graduating art school in Cincinnati, Ohio. But like so many of our small business owners, she soon realized that there was more to be had.
Q: What's the story behind your business, and how did you get started? A: Dulcet Design was started in 2009, shortly after I graduated from the DAAP Program at the University of Cincinnati with my masters in Architecture. This being the worst year to graduate with that degree in decades, it took a couple months to find work. And when I found it, it was not as inspiring as I had hoped. I needed a creative outlet, something that I was in control of and something that I found meaning in. I started laser cutting jewelry and selling it at a couple craft shows. When I started having a few stores contact me, and people became more interested, I started working more and more towards my goal of doing Dulcet Design full time. In 2013, I was finally able to make that happen - and haven't looked back since. Growing your own business is incredible, stressful, gratifying and scary all at the same time but I wouldn't have changed a thing.
Q: What makes your products unique?   A: I believe what makes my products unique is the way in which they are simply designed and customized, down to the way they are packaged. I design and create each piece in computer aided drafting software, the same programs that I used in my days working as an architect. The glass nightlights are original artwork permanently fused into hand cut glass. In my opinion, the simplicity is what makes them unique.  
Q: What do you like about being part of the Celebrate Local family?  A: Everything! I love coming into the store, and have made several trips from Cincinnati to Columbus just to visit. I am so excited that there is now a closer location to me. It has been a pleasure seeing the community grow and develop, in the short year or so since I have joined. You can really tell everyone working there cares and is knowledgeable about each company and product line, which these days is amazingly unique. I can't wait to see what 2016 has in store!
Find Dulcet Design products at either Celebrate Local location and online here.
---