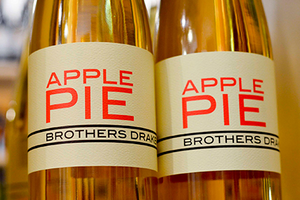 CL Family Spotlight: Brothers Drake Meadery
Meet the fine makers of the infamous Apple Pie Mead.
We are Brothers Drake Meadery . . .
And we're going on ten years in Columbus. We started in Worthington in 2007 when there were only about 40 meaderies in the entire country. Today, we are located in the Short North, and now one of 450 meaderies in the United States. We are working, just like our competitors, to help bring mead back in fashion, as it is the oldest fermented beverage--dating back to 7000BC.

Our mead and mission are simple. We use local honey and local ingredients whenever possible. Much of the work we do is to create an increasingly closer supply of raw materials--from our ingredients to packaging, and business partners. We minimally process our ingredients and never add sulfites. The equation is pretty simple--good stuff goes in, great mead comes out.

We aim to bring people in our community together with our welcoming environment, great local booze, and awesome local music--from Jazz Wednesday's to our regular Re-Start every 4th Friday, and every genre in between: Indie, funk, fusion and folk to name a few.

In our free time, we like to . . .
As a collective, we are a busy bunch of people. When we aren't busy developing our mead, we're working to develop our brand as both a meadery and a bar where we host great local artists--both musical and physical mediums, which are proudly displayed on our walls every month. When we aren't doing that, we're probably catching up on sleep, relationships, and overall wellness. My [Sara] personal favorite is going stand up paddleboarding by COSI for exercise with a great view of our Capital City.

Creating mead is a creative process . . .
Personally, I feel that mead lends itself to creativity, as it bucks the standards in the wine and beer industry. For me, it comes from the day-to-day experiences--from a great tasting dish at a local restaurant to something delicious I smelled while traveling. It also comes from trial and error, most of which are done with small scale bench trials with new spice, herb, fruit, vegetable, or other flavor combinations. We are looking to get even more creative in the years to come with more specialty batches.

Being a member of the CL family is great . . .
Celebrate Local has been a reliable and incredible asset to Brothers Drake. The support from the CL Family is never ending. They go out of their way to include us in marketing our product to their customer base and including us in local events, such as wine or beer tastings. And whenever I'm in the shop, I find new local brands to try out for my own personal use! 

My favorite product would probably have to be . . .
To be perfectly cliche, I can't pick just one because it depends on the day. And I think I can safely say that everyone who works for Brothers Drake has their own favorite, which is one of the things that makes mead unique. There is something out there for everyone. For now, I would say my top three are: Ginger Verge to help me chill out, the classic Apple Pie (but Bourbon Barrel aged Apple Pie when it is available), and our new Blackberry Mead for when I'm feeling a little more refined.
Find several varieties of Brothers Drake meads at both Celebrate Local locations: Easton and Liberty Center.
---