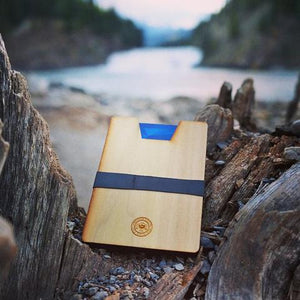 CL Family Spotlight: Bearded Woodcraft
Tomorrow is National Beard Day, so chatting with Bearded Woodcraft for today's feature was a no brainer! At first, John just really wanted to make a killer wallet. Now he's running an entire business crafting handmade wooden accessories.

Q: What's the story behind your business, and how did you get started?
A: Bearded Woodcraft started with my drive to create my own wallet. After months of trial and error, different materials and designs, we created the Slab Wood Wallet. This is where everything started for Bearded Woodcraft and to date we have continued to add new products: cuff links, tie bars, key chains, coasters, phone cases and more. 
Q: What makes your products unique?
A: Bearded Woodcraft strives to create unique wood products from reclaimed and recycled wood. We offer a variety of stock designs, but we love to create custom designs for all our products. Each Bearded Woodcraft product can be customized to your liking with a logo, design or custom text. This allows customers to create a custom look all their own!

Q: What do you like about being part of the Celebrate Local family?
A: Being part of the Celebrate Local family has opened so many doors for our business to create new product lines and business ventures. As a small business, it is very hard to get your name out to potential customers and grow your business. As a member of the Celebrate Local family, we at Bearded Woodcraft have greatly benefited from the networking, social advertising and brick and mortar at Celebrate Local store at Easton.  
Learn more about Bearded Woodcraft on their website or visit our store to pick up some awesome products!
---