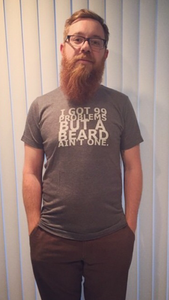 CL Family Spotlight: 7thirty8 Apparel
TGIF! One of our favorite parts of Friday are posting these weekly features. Another is getting home from work to change into our favorite jeans and T-shirts...and speaking of T-shirts, our feature Friday this week features Matt Overholt of 7thirty8 Apparel! His tees are just the kind of hip, cozy clothes we want to rock on the weekends, making this Feature Friday even more exciting. Learn more about 7thirty8!
Q: What's the story behind your business, and how did you get started? A: I guess the short version of my story is that I had quit my job of 12 years to sort of re-evaluate my life and take some time to find out what I wanted out of life and somewhere in that time I bought a little "screen printing start up kit" just for something to do as a hobby. Over time I started selling the shirts I was designing and printing and as I came up with more designs it became more serious. Cut to three years later and I'm in over a dozen stores across Ohio and selling at a lot of shows throughout the summer. Below is picture of me sporting my first ever, and still one of my biggest selling shirts! Aside from some silly 7thirty8 stuff this was the first shirt I did that people really gravitated to.
Q: What makes your products unique? A: What makes my products unique is that I print every one of them myself by hand. 7thirty8 Apparel is a one man operation! The photo below is of my of my print shop aka garage! I've put a lot of work into it this year and am so proud of not only how far it has come but how far I have as a business as well.
Q: What do you like about being part of the Celebrate Local family? A:  What I like about being part of the CL family is being able to share my products to their amazing customers!  
Find them in our store or check out 7THIRTY8's facebook page for more!
---