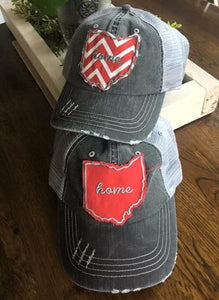 CL Family Feature Spotlight: Shelly Lou's Lids
We're inching closer and and closer to the start of Buckeye football season and we bet you're in the market for some new gear! Well, prepare to fall in love with these hats from Shelly Lou's Lids! Her products are brimming with Ohio pride and her company is the focus of this week's family feature spotlight!
Q: What's the story behind your business and how did you get started?
A: Shelly Lou's Lids started in September 2013 after I made two crazy fedoras with sequins and a giant Buckeye attached to the top for my friend and I to wear to the first Ohio State game of the season. We were swarmed in a stadium bathroom by a group of women who encouraged me to sell the hats on Etsy. My cousin and I have a history of making crazy headwear with glue guns and sparkly things so I thought it might be fun! Also, I am a social worker so it helps to have uplifting outlets. I knew I would need a more "normal" hats to accompany the crazy fedora so I decided to decorate cadet style caps with fabric and upcycled materials like old jerseys. I also needed a name! Until 2013, the only person who called me Shelly was my husband. My middle name is Louise after my maternal grandmother. So Shelly Lou's it became, and of course Lids just goes much better with Shelly Lou than hats.
We have come a long way from those original lids...the fedoras have gone by the wayside, but the cadet caps and now trucker-style caps are thriving. I still use upcycled jerseys from time to time, or rather, when my son gives me an old one to cut up.
Q: What makes your products unique?
A: My first ever craft show was the Grove City Band Bazaar in November 2013 and the "lids" were a hit. People said they were "unique" and they enjoyed seeing something different than the usual suspects. I was a lone vendor of hats! As far as I know, I still am. Although I do have one t-shirt design I added to the mix this year.
Q: What do you like about being a part of the Celebrate Local family?
A: I am so proud to be affiliated with Celebrate Local. The vibe of the business is "support our artists" and it is apparent from the vendor portal on the website to the customer service in the store. I had the pleasure of setting up a trunk show in May and the sales staff greeted each customer, showed them around, explained items--it was a breath of fresh air. So many times I have walked into shops and the sales staff are on their phones, sitting down or don't speak. The staff at CL seem genuinely happy to be in the store! And this welcoming environment ultimately HELPS my business grow!
You can find Shelly Lou's Lids at our Easton Town Center and Liberty Center retail stores!
---