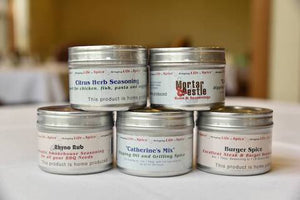 CL Family Feature: Mortar & Pestle Rubs and Seasonings
Summer is in full effect which means there's still plenty of outdoor parties and grilling to be done! This week we're spotlighting Mortar & Pestle Rubs and Seasonings from Liberty Township in our Friday feature so you can spice up your grill with delicious seasonings for the rest of the season!
Q: What's the story behind your business and how did you get started?
A: I started making my BBQ spice, Rhyno rub, 7 years ago when I got a smoker and started making BBQ. Burger spice and my Citrus Herb seasoning came out of cooking experiments and "Catherine's Mix" came from developing a spice mix for creating a dipping oil.
Q: What makes your products unique?
A: My products are unique because they are gluten free, made in small batches with high quality ingredients and contain no fillers or anti caking agents. I also designed my spice mixes for everyone from professional chefs like me to novice cooks who only grill out and everyone in between.
Q: What do you like about being a part of the Celebrate Local family?
A: I love that Celebrate Local gives small business owners and artisans a place to get their products out and share their love and passion with the world.
You can find Mortar & Pestle Rubs and Seasonings at our Liberty Center retail store!
---