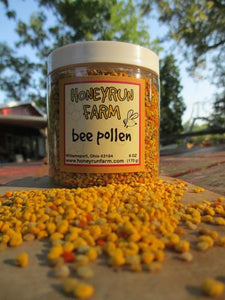 CL Family Feature Spotlight: Honeyrun Farm
Buzz buzz! You already know that honey is delicious and you're already (hopefully) aware of the current honeybee crisis. Honeyrun Farm is a small family farm from Williamsport that produces goods from their harvested honey while doing their part to help restore the honeybee population! Learn more in this week's family feature spotlight!
Q: What's the story behind your business, and how did you get started?
A: We got our start in beekeeping back in 2003, when Jayne gave Issac his first beehive as a Christmas gift. What started as a simple hobby quickly turned into much more...first a serious obsession, then a side-line occupation, and now a full-time job and a way of life. The Barnes family, Issac, Jayne, and our four young children, currently keep around 600 hives of bees. We harvest seasonal honey, collect bee pollen, and create candles and handcrafted soaps from the products of the hive. We feel fortunate to be able to raise our children in the Ohio countryside near our extended family. We wake up every day to do a job we love, creating useful and meaningful products from nature!
Q: What makes your products unique?
A: We strive to produce environmentally mindful goods while ensuring the health and survival of our honeybees. We hope our products serve to educate others about the gentle honeybee and the gifts from the beehive.
Q: What do you like about being part of the Celebrate Local family?
A: Celebrate Local allows us to connect with our loyal customers in a convenient way. We love networking with other vendors who work with Celebrate Local and collaborate with them in a meaningful way. We have such a wonderful, supportive network of local supporters!
You can find Honeyrun Farm's products at our Easton & Liberty retail stores and online!
---