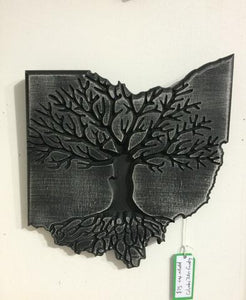 CL Family Feature Spotlight: Noeldoubt Designs
How much do you love Ohio? These wonderful designs from Noeldoubt Designs are an excellent way for you to decorate your home and show off your Ohio pride! We spoke with John Noel for this week's family spotlight to learn more about the inner workings of Noeldoubt Designs.
Q: What's the story behind your business, and how did you get started?
A: I started off by becoming a member of the Columbus Idea Foundry. It was here that I learned how to use all the tools and machines. Once I had that down pat, I started working on a few designs. After I had a decent amount of designs to display, I held an open house. It was here that I met Lynn and Lori. They loved my Ohio tree roots carvings and asked me if I would like to be a part of the Celebrate Local family! This was essentially my springboard. Shortly after, I started making more products and participating in local markets and events! I am currently participating in the Pearl St Market, the North Market, the Moonlight Market, the Sunlight Market, 400 Market, and the Made Local Market! I will also be at Park Street Fest and the Columbus Arts Festival this year!
Q: What makes your products unique?
A: Our products are unique at Noeldoubt Designs because we utilize the tools and resources available to us at The Columbus Idea Foundry. Everything we sell is made right here in Columbus. We source all of our materials from local vendors. We are firm believers in supporting other Ohio small businesses. We also offer custom laser engraving, cutting, and CNC services.
Q: What do you like about being a part of the Celebrate Local family?
A: I always look forward to dropping of my inventory at the store! Every time I visit, the staff is so welcoming and friendly! It's clear that they genuinely care about you as a person. I never feel like I am just another face, I feel like I am part of the family!
You can find Noeldoubt Designs at our online store and our Easton Town Center & Liberty Center retail stores!
---