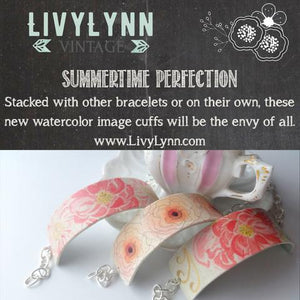 CL Family Feature Spotlight: LivyLynn Vintage
Friday has arrived and that means we have another family feature spotlight! We spoke to Jennifer Haines this week to learn how she started her handmade jewelry business, LivyLynn Vintage. If you've been hunting for wonderfully crafted and uniquely made jewelry, we have something you're going to love!
Q: What is the story behind your business and how did you get started?
A:  LivyLynn is an eco-conscious jewelry business where we focus on making gorgeous multi-tasking pieces to accessorize busy women in a snap. The business was created out of a need for a creative outlet as well as a way for me to recover from a stroke I had in 2011. I have been making jewelry since I was about 12 years old. Starting with beads from a small shop on OSU campus, I now create with fire, metals, leather, and more. I am also very proud to say that I am 100% self-taught in my techniques and designs.
However, my biggest goal for the business was to create jewelry that women could wear and feel special. Women are busy and not all of them want to spend time picking out pieces of jewelry to accessorize their daily attire. LivyLynn pieces are made to be noticeable and neutral at the same time. This means that it takes no time at all for a woman to get ready in the morning (when it comes to her jewelry). Mix our pieces with your already loved collection, wear them alone, or match them with other pieces in our collections. All you have to do is grab a piece and put it on while you are walking out the door, and no matter what, when you wear LivyLynn, you will get loads of compliments and people asking where you got your pieces from!
Q; What makes your products unique?
A: All of our pieces are created with at least 50% upcycled or recycled supplies (some items are created using even more than that). This includes gorgeous recycled metals, vintage chains, and luscious recycled leathers. Along with these recycled products, we work with some unique mediums in unique ways. This might mean using different patinas on top of recycled leather or special types of plastics to pair with our vintage chains.
Q: How do you like being a part of the Celebrate Local family?
A: I have been a part of the Celebrate Local family for two years now, and I can't even imagine my business not being partnered with this amazing collective! Columbus is a really unique town in regards that people here have truly embraced the shop local and buy local movement. There are few places in the country where you will see people so passionate about locally made and produced items.
Celebrate Local lives the support local lifestyle to the extreme. They are incredibly passionate about the artists that are in the shop and about supporting local business. This is reflected in the shop, who they use to move products between stores, and even who creates signage and packaging for the stores. It is awesome to be a part of a company who doesn't just say they support local...they actually mean it!
You can find LivyLynn Vintage at our Easton Town Center and Liberty Center retail stores!
---